New Work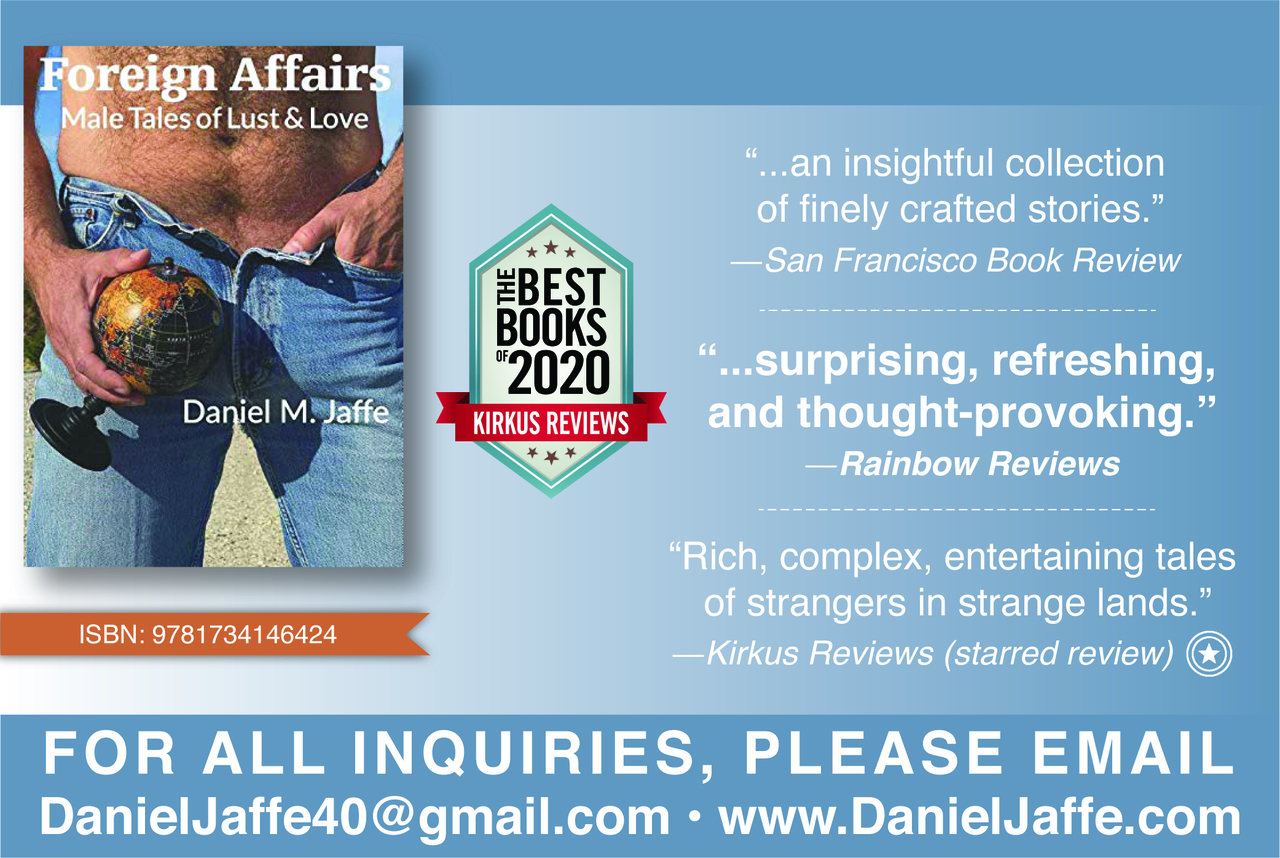 One of Kirkus Review's Best Indie Short Story Collections of 2020 and Best Indie Books of 2020.
Honorable Mention in the 2020-2021 Rainbow Awards!
"As a travel writer, Jaffe introduces his destinations as one would a friend, with intimacies known only to a close acquaintance.… His characters are imbued with wit, warmth, and whimsy, and despite some of their sexual proclivities, they are all human and relatable….A fine writer, Jaffe has a command of language and the difficult medium of the short story.…Though some might consider the stories bold in subject matter, Foreign Affairs: Male Tales of Lust & Love is an insightful collection of finely crafted stories." San Francisco Book Review
"I strongly urge you not to pass this collection by…. It sounds cliché, but reading these stories feels like being in Dublin, Mexico City, Seville, Munich; and I suspect that many quarantine-weary readers will enjoy the escape…. Whatever your pleasure—be it erotic delight, absurdist humor, a bit of otherworldly magic, or simply the vicarious thrill of the armchair traveler—I can guarantee that you will find something to enjoy in this travelogue; like as not, several somethings."
Out in Print
"[S]urprising, refreshing, and thought-provoking…. Mr. Jaffe's tales, both sexual and sexless, have broad appeal to readers occupying places up and down the Kinsey scale…. Kudos to Mr. Jaffe." Rainbow Book Reviews
In this newest short story collection from award-winning writer, Daniel M. Jaffe, red-blooded American men revel in wild romps, lose themselves in romances, discover unexpected friendships, and wrestle with shocking encounters, all while vacationing abroad. These travelers befriend a serial killer in a Munich bathhouse, a gay Holocaust ghost in Prague, a shape-shifting seductress in Mexico City, a desperate prostitute in Seville, a closeted Catholic school administrator in Dublin, an old woman who feels herself a prisoner in Soviet Leningrad. On an El Al flight home from Israel, a New Yorker tries to make sense of a fellow passenger contentedly sealed head-to-toe in a plastic bag. A tourist from West Hollywood wonders in Spain whether he should cruise a handsome older man seemingly right out of an El Greco painting. A New Jersey suburbanite strives to suppress forbidden urges while on a public Puerto Rico beach. The Americans here are young, middle-aged, senior. They are gay, bi, and straight men longing for other men, for women, for a trans old friend. Whereas many of these stories are realistic, others bring to life ghostly incarnations of those long dead, beings who defy definition, even the Devil himself. In Foreign Affairs, Daniel M. Jaffe blends humor, suspense, and eroticism with compassion for human frailty and respect for the universal struggle not simply to endure but to overcome. These stories titillate, intrigue, and tug at heartstrings.